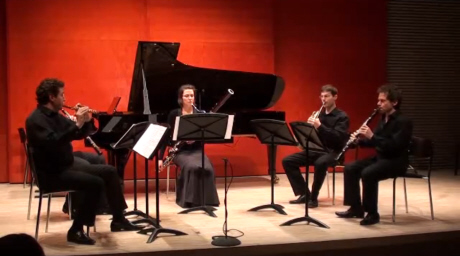 Child's Play.... wind quintet - 2003/8
duration 25 minutes

This suite began as a miniature "concerto" for the Schubert Octet combination. It was written for a workshop with The London Mozart Players in Spring 2003. I was inspired by everyday break-time views of children at play at school where I taught, and also by the Breugel "catalogue' picture" on the same subject. This Beethovenian scherzo is full of sudden shifts (of dynamics and metre) such that, with the exception of a brief respite in the central section, it is difficult to establish "ground level stability" for more than a moment. The piece perhaps owes most to my former manner of writing in its jokiness. I subsequently made an orchestral arrangement.

2008: Further movements were (finally) added - always it was my intention to expand the original piece into my own Jeux d'Enfants, or Mladi. This suite is scored for wind quintet only. Their catalyst was a visit to the magical world of Robert Coudray ("Poet Welder" of Brittany), who refuses to abandon his sense of childhood wonder; he "re-invents the invented" which challenges our comfortable adult sophistications..... These thoughts resonated nicely with my earlier conception!


I. Bricoleur de Lune
II. Child's Play (original movement)
III. The Sad Song of the Green Man
IV. Pêcheurs d'Etoiles
V. On the Way to the Hermit's House
VI. Prince of the Air


If you have arrived at this page from a search engine (e.g. Google) and cannot see the menu system, please click here.