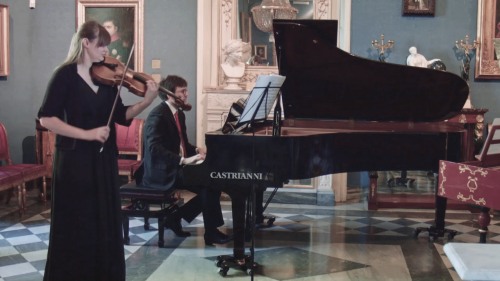 Freeing the Angel - duo for viola and piano - 2019
duration 7 minutes
This short work for viola and piano was a commission from Ars Nova, Reutlingen with a première in Nov 2019. As with its larger sister, the starting point was again the statues of Michelangelo. In 2017 I visited Milan and saw the so-called Rondanini Pietà, an unfinished work in which the main figures peep out from the stone as if trying to escape. It lends the work a quite unintended contemporary, modern look which has great power.

A frequently seen Michelangelo "quotation" attributes the sentiment that it is the sculptor's gift to see inside a block of stone an angel and to free it. This remark seems to have no reliable source and is doubtless spurious, but it is nevertheless rather beautiful. It perfectly captures the effect of the Rondanini sculpture and so became my title.
The work last around seven minutes and begins with a highly charged, passionate rhapsody: we are plunged immediately into the action with soaring viola melody and effusive piano figurations. When this subsides the music becomes simpler, more enigmatic, as if thinking-over the kernel of a potential artistic idea. After a short berceuse section (loosely reminiscent of the first movement of my larger viola work) the viola breaks free, as if attempting to fly. The opening melodic surge resumes, transformed, leading to an ecstatic climax - the angel is released!.
If you have arrived at this page from a search engine (e.g. Google) and cannot see the menu system, please click here.