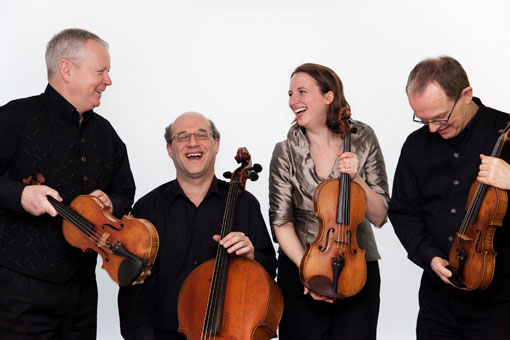 Saturday 10 December. 8pm
Tickets: £16 (£15)
Ticket16:26 - £7
Roger Coull violin
Philip Gallaway violin
Rose Redgrave viola
Nicholas Roberts cello
Any regular listener to BBC 3's music programmes must have become aware of the ever-increasing popularity of Czech composers like Dvorak, Smetana, and Janácek, who's Organ Concerto was a huge success when it was played on the first night of last years Proms.
When a letter arrived from Lincolnshire composer, Dr Peter Seabourne offering us the first performance of a quartet he wrote in homage to Janácek's wonderful works and especially his Intimate Letters, we became interested. The Coull Quartet, quartet in residence at the University of Warwick and established some thirty years ago ('the magnificent seasoned ensemble of the Coull' The Strad) had already been waiting two years for a chance to perform the piece.
Accept These Few Roses borrows as its title, the first few words Janácek wrote to his young muse, Kamila Stosslova in his Intimate Letters.
There will be a short talk by Dr Peter Seabourne on how Janácek's infatuation with Kamila Stosslova inspired him to write Accept These Few Roses.
Antonin Dvorak (1841 - 1904)
Quartet Op 51 in E flat
Petere Seabourne (1960 - )
Accept these few roses
INTERVAL
Leoš Janácek (1854 - 1928)
2nd Quartet 'Intimate Letters'
Part of our Classical Music Season