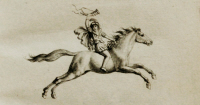 Double Concerto for Horn and Orchestra
2011
duration 24 minutes
I. Molto Moderato - II. Cantilena - III. Jaegers Lied
This work was written at the request of my good friend Ondřej Vrabec. He asked for something that could show off both of his wonderful skills in one piece: solo horn player and virtuoso conductor. Thus, with tongue slightly in cheek, the title "Double Concerto" materialised. It could equally be thought a combination of solo concerto and "concerto for orchestra", alla Bartok, Holloway, Lutosławski etc..
Initially some ideas suggested themselves from Des Knaben Wunderhorn. These were not specific to individual poems (I would not dare to take on Brahms, Mahler et al...!). Rather they reflect recurring themes: the hunter, magic, the quest, and the interface between innocence and darker forces. However, the work is not programmatic, following a relatively straightforward, traditional three movement form.
The first opens with a "toy box" of tinkling percussion, as if to say, "Once upon a time....". Quickly, however, it emerges that, in the best traditions of fairy stories, this will involve bigger forces: mystery, passion, darkness and drama; though equally there is joy, humour and dancing!
The second movement is a heartfelt cantilena, scored for a much reduced orchestra. It is perhaps in the manner of Shostakovich's 2nd Piano Concerto, or Poulenc's Two-Piano Concerto, paying hommage to the horn's place as that most talismanic of romantic instruments.
The final movement is a hunt, what else!? However, this one involves many diversions, from the amiable to the intense. Towards the end, in a dramatic turn, the quarry is spotted; the solo horn is joined by its four orchestral counterparts (who are asked to stand) in an "ecstacy of whooping", followed by a swift chase and the final deed.
The work was given its première by Ondřej Vrabec the Moravská Filhamonie in the Reduta (Hall), Olomouc in February 2012, to an incredibly warm reception. It was played again in August 2015, to equal acclaim, by the same soloist with the NCPA Orchestra in Beijing under Lü Jia.
If you have arrived at this page from a search engine (e.g. Google) and cannot see the menu system, please click here.