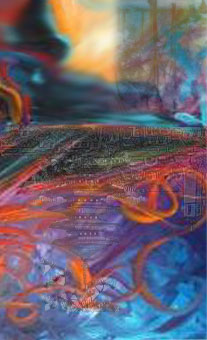 Piano Concerto no.2 - 2005/6
duration 25 minutes
I. Fleeting, delicate II. Lento molto
I was asked to write this concerto by Ivana Marija Vidovic for performance with the Dubrovnik Symphony Orchestra under Zlatan Srzic. It was composed between July 2005 and August 2006. However, despite my expectations, and many enthusiastic indications of imminence, the performance never took place.
The scoring is leaner than the 1st Concerto, with just double wind, horns and strings.
Cast in two parts of roughly equal length the piece is less formally "obvious" than its predecessor. The 1st movement opens in sunny, fleeting manner (owing something perhaps to Sibelius's 6th Symphony, though this subconcious connection only became apparent well into the composition). However, it also displays a certain muscularity in the piano part, and indeed the orchestral textures, as the movement develops. After dancing, romantic and scherzando episodes there is a return (of sorts) to the opening material. A final impassioned cadenza is capped by a brief orchestral '"litting off" into the distance.
The 2nd movement is set in a low register, with dark, velvety, rich sonorous tones dominating - a polar-opposite counter to the first. It is highly charged "Mitternacht" music, based around that commonest of clichés the tonic-to-dominant horn call found in so much classical and romantic period music. The movement combines romanza form with an interruptingly deferential nod to a more traditional finale. A slow building of both tempo and intensity leads first to a tempestuous passage and then to an almost cataclysmic climax. Only at the last moment does the fullness dissipate, but even then reluctantly, as if the business has not been finally settled.
Unplayed for eleven years the work finally had its triumphant première at the Lichtenstein Palace in Prague, March 2016, given by Kristina Stepasjuková with the Czech Philharmonic Academy Orchestra under Maestro Ondřej Vrabec. You can see video on a following page.
Scoring: 2 Flutes, 2 Oboes, 2 Clarinets, 2 Bassoons, 2 Horns, Solo Piano, Strings
If you have arrived at this page from a search engine (e.g. Google) and cannot see the menu system, please click here.