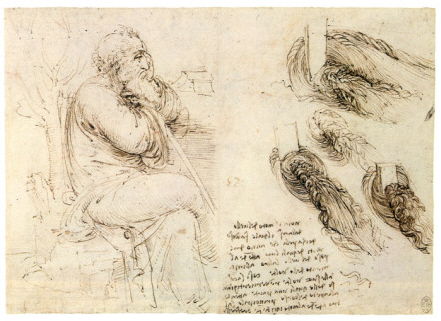 Steps Volume 2 - Studies of Invention - piano solo - 2007
Programme notes p.1 (of 3)
mp3s and pdfs follow these programme notes pages.

Flying Machines evokes the products of Leonardo's obsession with birds and flight, and is full of surging, exuberant broken chords.
Sixty Beggars refers to a stipulation in Leonardo's will that his funeral cortège should include these among it. Mordents and rather smudged harmonies prevail amidst funereal tones.
Old Man with Water Studies relates to a drawing of a seated old man, probably a self-portrait, and adjacent, unrelated sketches of rivers in motion (all available scraps of paper being used!). My piece tries to mix both ideas.
Study of a Woman's Hands is a graceful drawing (seen by the composer in Leeds, when on tour); so this is treated musically to a berceuse-like lilting.
The Kite of the Cradle is an almost ecstatic rhapsody. Leonardo talks of his early memory of a hawk landing on his cot (highly unlikely, and he was just a baby, but it is symbolic of his conception of his gift's origins perhaps).
If you have arrived at this page from a search engine (e.g. Google) and cannot see the menu system, please click here.