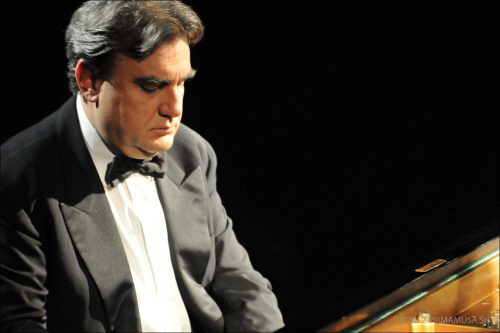 My good friend Giuseppe Fausto Modugno was so kind is presenting my work at his festival in Modigliana in 2009. I decided, whilst in Italy, to write him a cycle. Originally I had intended to create (somewhat harshly, perhaps) a portrait of Bertinoro: a lovely village near Forlì, but which had given me no sleep or peace for two weeks with its incessant dog-barking and loud music of the very worst sort, played until the small hours. Save for one little "souvenir", a different idea slowly formed. This was to create an "Italian song book" (title after Hugo Wolf) with relatively short pieces in clearly drawn colours and characters. These had the facets of Giuseppe's playing in mind, perhaps also more widely "the Italian character". Over the next two years a substantial set developed (concurrently with Steps Volume 3).
During this time I also read the life story of the Modigliani (co-incidentally so nearly sharing names with Giuseppe's festival location!). The painter's ultimately tragic love of Jeanne Hébutaine added its own particular colour to the pieces that eventually formed the cycle.
The nineteen pieces have a predominantly nocturnal, romantic, rather melancholic feel, at times even stormy, but not entirely so - indeed, the first and last are truly joyful (akin to Greeting! from Steps Volume 1), and others are playful, or enigmatic. One is written in homage to my teacher of old, Robin Holloway, who shares Giuseppe's love of Schumann.
If you have arrived at this page from a search engine (e.g. Google) and cannot see the menu system, please click here.