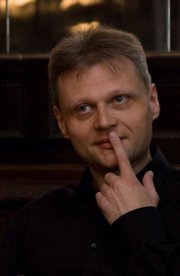 Pietà - duo for viola and piano - 2007
duration 35 minutes
1 Berceuse ~ 2 Enigmas ~ 3 Elegy ~ 4 Seven Roads ~ 5 Reminiscence
Written for Georg Hamann of the Aron Quartet, this large scale, five movement work is an in memoriam for my parents. The inspiration was partly pictorial, inasmuch as the Pietà statues of Michelangelo have remained a haunting memory from a trip to Italy many years ago - perhaps especially the almost god-like, all encompassing "knowing" on the face of Nicodemus (a self portrait of the sculptor).
The opening Berceuse does more than rock the child to sleep. This is succeeded by a somewhat schizophrenic movement called Enigmas, with alternating stabbing chords and arabesque-like, ethereal cadenzas The Elegy that follows is simple, haunting and melancholy. As a result the fiery and extended, protesting 'plaint' in Seven Roads comes as a brutal shock. A slow Reminiscence completes the work, like a flickering candle, as towards the end a small quotation from Janáček's little piano piece Good Night is heard.
The first performance was given in Boulder, Colorado USA by Erika Eckert and Margaret McDonald. Another was given in 2018 at Rome's Museo Napoleonico by Henrietta Hill and Alessandro Viale (this will be repeated in Nov 2019 in Reutlingen).
If you have arrived at this page from a search engine (e.g. Google) and cannot see the menu system, please click here.