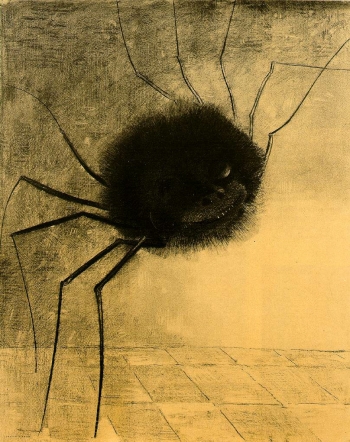 Bitten! - tarantella for orchestra - 2022
dur. 6 mins
By tradition, the tarantella is danced in pain by those bitten by a tarantula. Or some say it is danced to avoid such a nip! Whichever, this piece sat in embryonic form for some ten years; in my mind, but with always something more pressing ahead of it in the queue. In 2022, seeking a little light relief from a rather sluggish attempt at a 6th symphony, I picked it up again.
Although only clocking in at six minutes nevertheless it unleashes a torrent of notes during its many twists, turns, stamps, shrieks, trances and fits. I intended a certain "cartooniness" so the piece becomes perhaps a caricature of a tarantella. It falls simply into three sections: in the first the poison is already at work with ensuing spasms; a somewhat spooky central section proves only an interlude, the frenzy returning with a vengence, and ending in wild stamping! It is 6 minutes of orchestral exuberance, or perhaps rather of orchestral pain?...
Half way through the composition I remembered the Odilon Redon L'Araignée (Smiling Spider) - what an absolutely perfect fit for my concept and one that then coloured the rest of the writing.
Scoring: 2 Flutes, 2 Oboes, Cor Anglais, 2 Clarinets, Bass Clarinet, 2 Bassoons, Contrabassoon, 2 Horns, 2 Trumpets, Trombone, Tuba, Timpani, Percussion (Xylophone, Vibraphone, Triangle, Susp. Cymbal, Snare Drum, Bass Drum, Tam-tam), Harp, Piano, Strings
If you have arrived at this page from a search engine (e.g. Google) and cannot see the menu system, please click here.