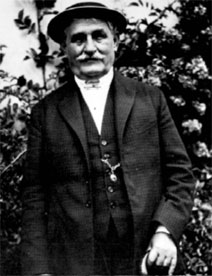 The Darkness of Ages
Poem for symphony orchestra - 2001-02/rev. 09 - dur. 12 mins
"I know a large fountain - nearly a small lake, choked by the darkness of ages..." [Leoš Janaček 1922]
This single movement tone poem was written from autumn 2001 to spring 2003 and is cast in four sections, with the first and third developing similar material, based around the notes A-G-Es(/E flat), hence the title. ...Or rather it was a happy fit, discovered during the composition, with a line from one of Janáček's essays describing a well in his home village of Hukváldy.
A solo violin bursts out of the passionate opening drama. Throughout the work tumult abounds, both rhythmically and melodically, but the language is nevertheless predominantly lyrical. In the middle of this emotional storm a shorter, calmer moment tries to create a little space before the opening surge returns. This in turn is balanced by a coda which, having drawn the orchestra together into a full unison, proceeds to disintegrate away.
This piece was heavily revised in August 2009, with much re-scoring.
If you have arrived at this page from a search engine (e.g. Google) and cannot see the menu system, please click here.