A Rose Among Many Waters - J.B. Yeats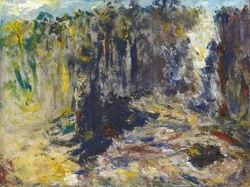 Symphony of Roses - orchestra 2011-14
1. The Rose of Battle
2. The Rose of Peace
3. A Rose Among Many Waters
duration 30 minutes
In the course of sketching some ideas for my horn concerto, one somehow took on an independent life of its own and grew at quite a pace. This sizeable piece, The Rose of Battle, was all finished in a week, a feat never before matched, and I suspect not to be repeated. Originally intended to be a standalone project, there was from the outset, the nagging thought that is sounded symphonic and might become something rather larger in time. In due course two other movements materialised, rather slowly, taking some three years to complete, not least because I seemed to be writing another symphony alongside it.
A chance connection on the internet led me to W.B.Yeats's The Rose of Battle and this poem, retrospectively seemed a perfect match for the first movement, both emotionally and in "unspecific narrative". It even incorporated other used imagery (bells!). Strangely, I had been in Sligo, Yeats's home town, only a month or so before completing this movement!.. Perhaps there was a subconsciously sown seed...

The idea then came to base two further movements on Yeats roses. Initially I had thought that both of these would be poetic (there being three more to choose from), and I settled on The Rose of Peace for a slow movement. However, when I was in Sligo I had greatly enjoyed an exhibition of paintings by WB's brother, Jack, and on further investigation his A Rose Among Many Waters provided a perfect starting point for a finale.
The opening movement has a serious, even austere side, but with soaring passionate writing also; there are bells along with a good deal of plaintive cor anglais (the woman watching the departing, doomed army pass by). The slow movement, with its lyrical clarinet solo, has a little of the air of Holst's Venus, or Respighi's Pines of Rome - I wanted to write beautiful music - how unfashionable... Movement is gradually gained with, as Kaspar Zehnder put it, a little devil's dance emerging on a solo violin, but seductive, not malevolent, before the clarinet returns to end with movement in great tranquility. The finale is dominated by upward surges of pizzicato strings under extended burbling woodwind phrases. Against this is more viscous string writing - weed in the stream. The two contest and jostle until a new idea appears - stolen from my piano piece The Little White Girl - perhaps what was being tossed about in the current. The river returns and eventually hurtles off down the ravine.
Of course every composer is wary of making the biggest, boldest statement possible, "Here is my Symphony no.1!"... So my preference was to enter the symphonic world via the side-door, and for this work to be Symphony of Roses.
Kaspar Zehnder, a very dear friend, gave the première in Biel-Bienne. I was called back four times - the only time in my life.
Image: The Sick Rose no.5 by Azadeh Razaghdoost seemed an excellent visual reflection of my work and appears on its title page by kind permission of the artist. (Visit the artist's website for other beautiful works in this series).


Scoring: 2 Flutes (one doubles Piccolo), 2 Oboes (one doubles Cor Anglais), 2 Clarinets, 2 Bassoons, 4 Horns, 2 Trumpets, 2 Trombones, Tuba, Timpani, 2 Percussion, Strings
If you have arrived at this page from a search engine (e.g. Google) and cannot see the menu system, please click here.