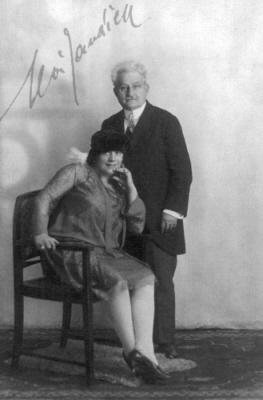 accept these few roses... - string quartet - 2005-11
duration 10 minutes
This single movement string quartet was inspired by the infamous "intimate letters" sent by Leoš Janáček to Kamila Stosslová, with the very first line of his first letter providing my title. In 2001 I was fortunate enough to visit the house Janacek built for himself in Hukvaldy, there standing at his composing lecturn, sitting at his harmonium and holding his habitual friend, a walking stick. This was something of a pilgrimage to the home of a composer I admire hugely. I have been back since (and held his baton - also the manuscripts of his Sinfonietta and Glagolitic Mass, and his sketchbooks in Brno!)
Cast in a single span, my quartet is in the manner of an introduction and interrupted-allegro. Though not programmatic I wanted to capture both that "first moment", and something of the inner turbulence that it caused.
The work opens with yearning slow music which leads to a stronger, agitated section. This returns after a gentler, meditative interlude. The writing mixes the full-bloodedly passionate with the listless.
The Coull Quartet kindly adopted this work at a semi-complete stage as a commission and programmed it as part of two all-Czech recitals at Warwick Arts Centre and Stamford Arts Centre in December 2011, and again at Keel University a year later. It has subsequently been taken up with much enthusiasm by the Borealis Quartet from Canada who gave its Italian premiere at the 2014 Casalmaggiore Festival. and the Benyounes Quartet who played it at the Lincoln International Music Festival in 2015.
If you have arrived at this page from a search engine (e.g. Google) and cannot see the menu system, please click here.