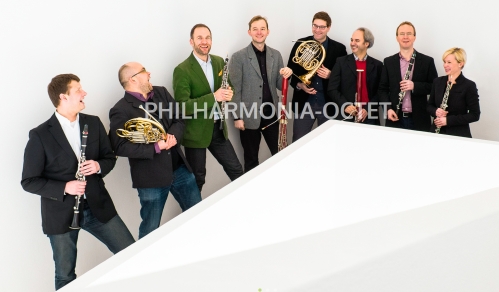 Gran Partita - 2019
octet
duration 30 minutes
As a child I especially loved the Harmoniemusik of Mozart; my LPs by Netherlands wind ensemble becoming almost unplayable through over use. I recently mentioned this to my dear friend Ondrej Vrabec who jumped at the idea of me writing for his octet. Such a fun piece to write and, for me, very quickly so in just a couple of months! Stealing Mozart's (ungrammatical) title from his K361, mine also has seven movements, though there the similarity ends. (It is possible that one day I will make a 13-wind arrangement also).

The work straddles serious chamber music and divertimento, but with both elements jostling in most movements, much as in Mozart's great models. Preludes opens almost in Brucknerian symphony mould with tremolandi accompaniments to a heroic horn melody, but soon this switches to a more resolute, then dancing mood with interplay between the two. Canzonetta Malincolica is a soulful elegy. Scherzo Furioso provides the work's centrepiece; a longer movement full of foot stamping and almost rude gestures - a real teenager! O Where, Where, Where? combines sadly pealing distant bells with the intrusive cooing of wood-pigeons (a sound that runs monotonously all day around my countryside house as I compose) - the title is from a poem by Emily Huntington Miller. Intermezzo Grazioso begins in an unfashionably affable, genial mood, but darker rustlings, breezes and dances intrude. Almost a March seems to be struggling to reach to the familar character, with fleeting, delicate playful music repeatedly interrupted by a rather stony-faced, dour, stomping march which eventually finds both its feet and its sense of mission. Gallop brings the work to a rollicking conclusion in high-spirited finale manner.

Scoring: 2 oboes, 2 clarinets, 2 horns, 2 bassoons

If you have arrived at this page from a search engine (e.g. Google) and cannot see the menu system, please click here.